The Russell Kane Scholarship, through the National Extension College, will support 3 learners through their GCSEs and A levels.
A new scholarship programme from The National Extension College (NEC) has been launched to help support students from a lower socio-economic backgrounds who may have missed out on educational opportunities due to structural disadvantage. Comedian Russell Kane and award winning author Kit de Waal (My name is Leon, Becoming Dinah) announced the scholarship during a discussion that covered both individuals' experience of education, as well as broader themes including their background and social mobility.
Established in 1963 as a not-for-profit distance learning provider, the National Extension College (NEC) has a strong, proud heritage in widening access to education. Their aim is to transform lives and open up new possibilities for people of all ages by offering access to essential qualifications like GCSEs and A levels, as well as vocational qualifications in management, business and teaching.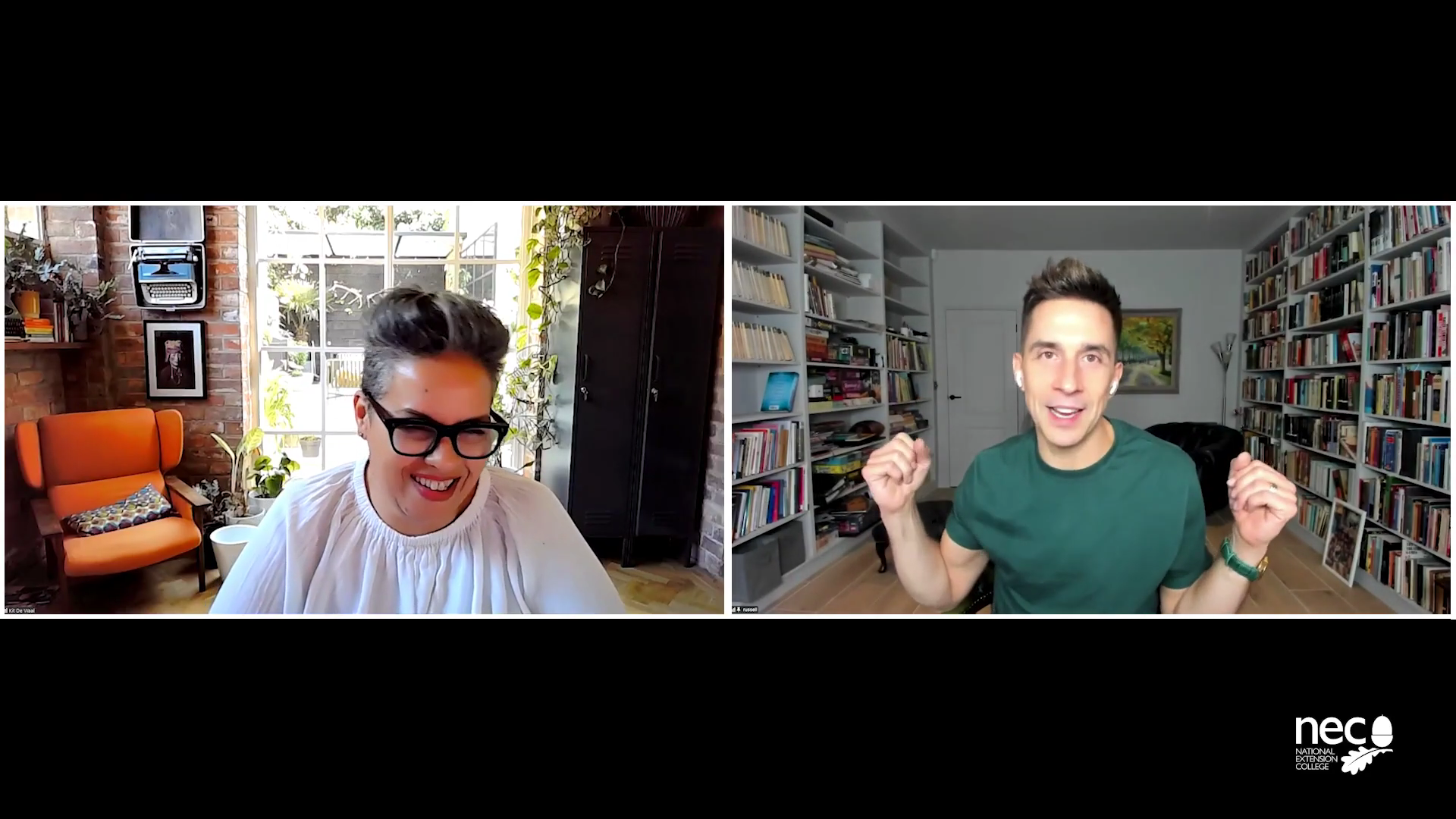 Russell Kane, now a multi-award winning comedian, TV and radio presenter, actor, author and scriptwriter, is a former learner at NEC. After leaving school without A levels, he enrolled with NEC to study A level Sociology. He studied for two hours every evening while living with his grandmother in her housing association flat and working in a Rolex store during the day.
Kane received the fastest ever A grade from enrolment to completion and received a special award from Betty Boothroyd, then Speaker of the House of Commons, for his incredible success. As a result of his studies with NEC, he was able to embark on a degree at Middlesex University London.
Now an advocate for widening participation in education and combating the socio-economic attainment gap, Kane has been outspoken about the need to improve options for working class students.
In the video, available to watch through NEC's Youtube channel, Russell Kane and Kit De Waal discuss how fundamental changes need to be made in order to provide opportunities for people of all backgrounds and circumstances to access education at any point in their lives.
'Making your choices about what you are going to do for the rest of your life – but making those choices at 14. I think that is absolutely f***ing stupid.' says Kit De Waal. During the video De Waal also expresses a desire for more diversity within the current curriculum, stating 'I know that schools are still, in English, studying the same books that I studied 40 or 50 years ago. The curriculum, certainly in English, needs a massive change.'
Russell Kane also gives a detailed account of his time growing up and how his working class background limited his horizons when it came to education. During one exchange he states:
'I stopped one day at work and it hit me. I've been robbed by an accident of my birth…I have just become the statistic I was always going to be…It's worse now than it was in the 60s – there is less social mobility.' – Russell Kane
'So what changed for you?' – Kit De Waal
'Realising I am allowed access to this knowledge' – Russell Kane
On getting his A level with NEC Russell adds 'It was the moment that changed everything. If I had not been able to do that A level then nothing else would have followed.'.
The Russell Kane Scholarship will provide learners the opportunity to study up to five GCSEs or three A levels, plus exam costs. The National Extension College hopes to continue the scholarship and expand its provision year on year. A spokesperson from the college said 'Stories like Russell's are hugely inspiring and goes to show that if people are given the opportunity they will grab it with both hands. We hope Russell's story will motivate many people to apply for the scholarship who may have previously thought it was too late'.
Speaking of the scholarship Russell Kane says 'I feel humbled by the whole thing…I really want to meet them (recipients of the scholarship) and see what happens.'.
Kit De Waal adds 'If ever there is a message, for me, that I would like to give to anybody coming to education later or through a non-linear journey. It's that you can do it. If I can do it and Russell can do it, you can do it.' – Kit De Waal
Watch the full video here:
In line with the ethos of Kane's advocacy work and tying in with NEC's history relating to socio-economic empowerment, the Russell Kane Scholarship Programme would explicitly aim to target students from a lower socio-economic background who may have missed out on educational opportunities due to structural disadvantage.
The breadth of the scholarship will cover:
Up to five GCSEs
Up to three A levels
Exam fees for each subject
Find out more or apply at the website here.
Russell Kane is a multi-award winning comedian, TV and radio presenter, actor, author and scriptwriter.
Television appearances include BBC Children in Need, Let's Dance for Comic Relief, Live at the Apollo, Mock the Week, I'm a Celebrity… Get Me Out of Here Now and Room 101.
Writing credits include writing, directing and starring in three plays, one of which was performed in the main house of the RSC in Stratford-Upon-Avon; a novel; an autobiography, Son of a Silverback, in which NEC is mentioned by name.
Audio appearances include the BBC series Evil Genius with Russell Kane (offering a humorous reassessment of famous individuals from history) and Kane's podcast, Russell Kane's Man Baggage (exploring modern masculinity).
Kit de Waal was born in Birmingham to an Irish mother, who was a childminder and foster carer and a Caribbean father. She worked for fifteen years in criminal and family law, was a magistrate for several years and sits on adoption panels. She used to advise Social Services on the care of foster children, and has written training manuals on adoption, foster care and judgecraft for members of the judiciary. Her writing has received numerous awards including the Bridport Flash Fiction Prize 2014 and 2015 and the SI Leeds Literary Reader's Choice Prize 2014 and the Kerry Group Irish Novel of the Year.