Fabrica gallery, in partnership with Spectrum Photographic, Photo Fringe and Jane & Jeremy are pleased to announce that a new photographic image by Duncan Poulton highlighting the pandemic induced bleakness that comes with facing our own mortality has been chosen for the In Between Gallery. This work will sit in Fabrica's large window space, which shows contemporary photography in the heart of Brighton's busy shopping streets for all who pass by, from December 2022.
Fabrica is a contemporary art gallery in the heart of Brighton's historic Lanes. Based in the former Holy Trinity Church, Fabrica responds to the building and its history through a programme of site-specific exhibitions and a diverse engagement programme, using creative and social activity to provoke investigation into how audiences look at the world.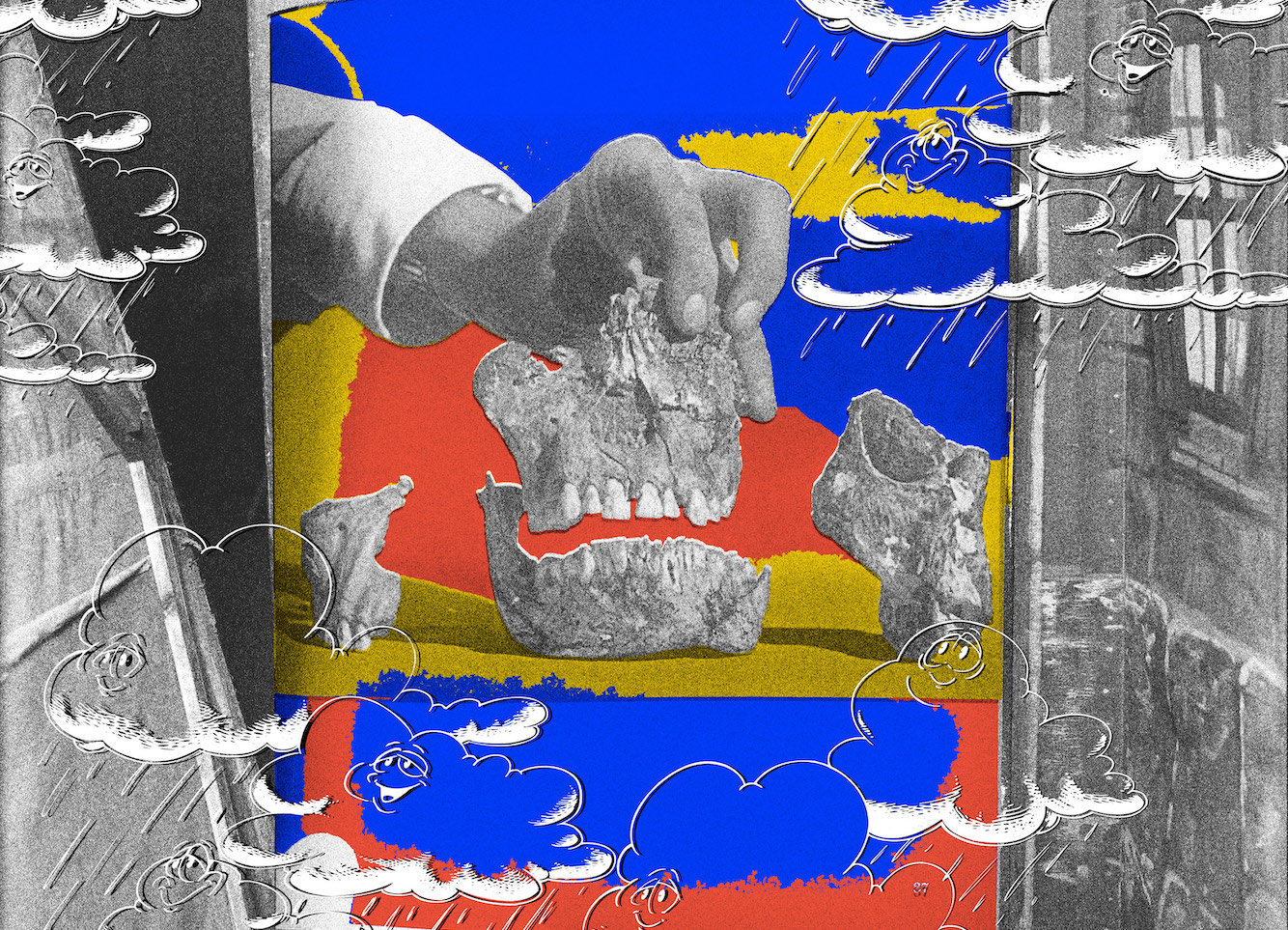 Fabrica has worked with artists ranging from Anish Kapoor, Brian Griffiths, and Kaarina Kaikkonen to Brian Eno, David Shrigley, Ipek Duben, Alfredo Jaar and Elpida Hadzi-Vasileva.
An esteemed panel (Liz Whitehead; Fabrica, Claire Wearn; Photo Fringe, Hazel Watts; Spectrum, Cairo Clarke; curator and writer, Jane & Jeremy; independent publishers and bookshop and Ibrahim Azab, artist and curator) decided on Findler as the overall winner of a recent call out for a work for the space. The image will be displayed from 12 December 2023 to April 2023.
This digital collage, in which archaeological textbook photographs and smiling cartoon rainclouds are compressed, reminds us that contradictions, like fear and apathy, coexist and come and go as the days pass, unrelenting.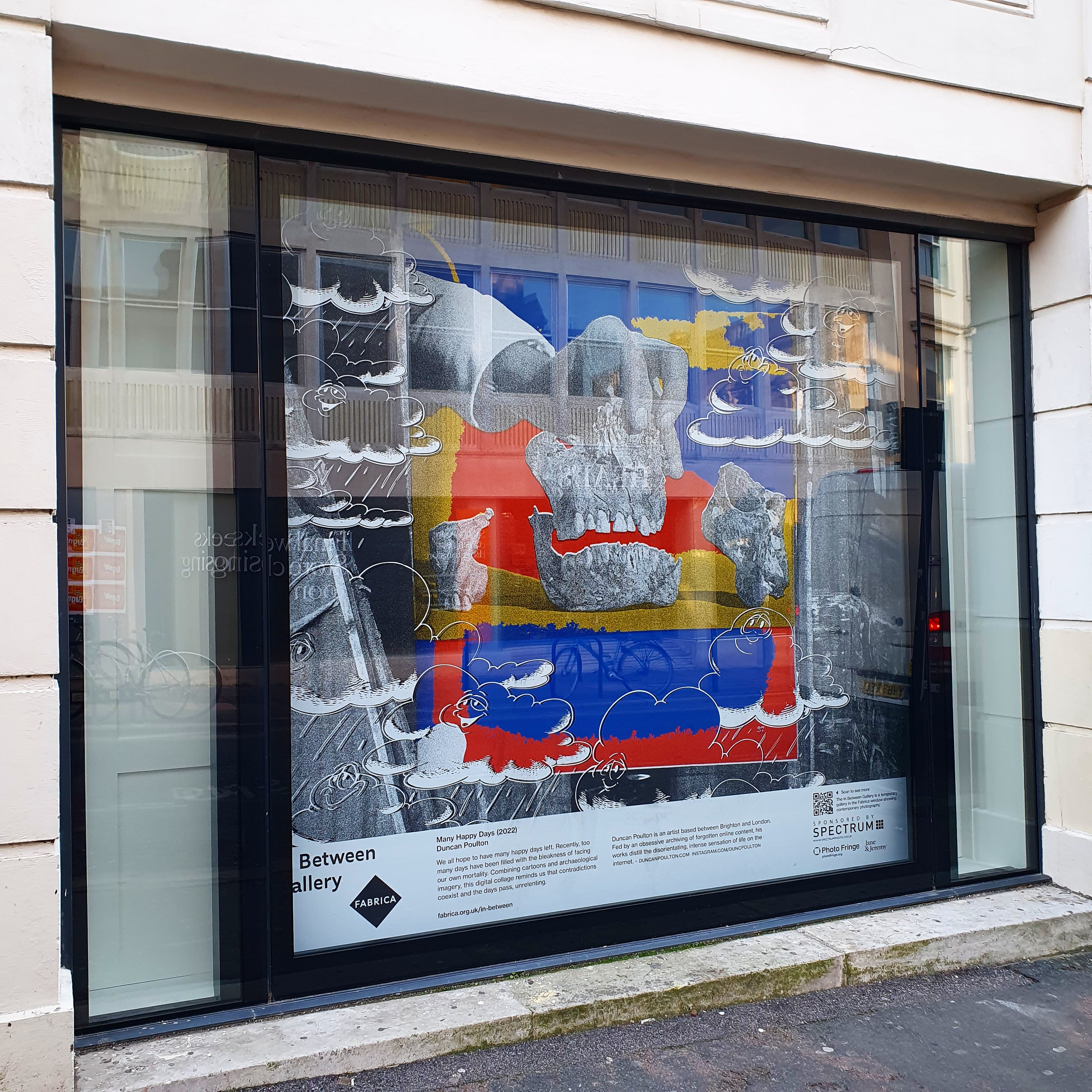 Duncan Poulton is an artist based between London and Brighton, UK. His practice is fed by an obsessive gathering of online content into a vast digital archive, which are recombined into still and moving image collages. Made exclusively with found materials, his works address a visual culture of overabundance and ambivalence, exploring the compression of histories and meaning engendered by the internet. He is a hoarder, a selector and combiner who uses the internet as his palette and imagination.
Duncan scours website upon website for lost, 'poor' and arbitrary images which have been buried by biased algorithms, in a process he describes as an 'archaeology of the new' – a real-time archiving and remediation of our increasingly virtual world. His recent works have explored digital waste, obsolescence and the death of privacy, whilst recurring interests lie in ideas of appropriation, ownership and excess.
His making processes bring the analogue virtues of improvisation, aggression and urgency into the digital production space. Works emerge from 'material' processes which use software to play with fidelity, complexity and texture within digital image files: images are crushed and enlarged, erased and duplicated in repetitious cycles. Content sources range from Creative Commons amateur photography, 3D modelling websites, iPhone photos of charity shop books, diagrams and patents, graffiti and found drawings. Once made, his works are manifested physically in different media – on paper, canvas and aluminium as well as being re-versioned to occupy screens, virtual spaces and publications.
In 2022, his debut solo exhibition Factory Reset was held at SET Lewisham, London, and was featured on WeTransfer, WePresent and in Elephant Magazine. Recent group exhibitions and screenings have taken place at Ars Electronica; MOSTYN, Llandudno; Coventry Biennial; Art Licks Weekend, London; QUAD, Derby; OUTPOST, Norwich; MIT Museum, Massachusetts; Eastside Projects, Birmingham; arebyte, London; CICA Museum, South Korea; and Transmediale, Berlin. He graduated from the University of Brighton in 2015, and from 2019-2021 he participated in the Syllabus, an alternative learning programme led by Wysing Arts Centre and arts venues across England.