In a time where reports show that millennial health is on the decline and more millennials are experiencing depression, anxiety and overwhelm now more than ever, Adulting In My Purpose, is a journal that provides young adults the hope and guidance they need to discover who you are and clarify their vision for life. This journal helps them tap into the power they have to bring about positive change for themselves and others.
In Adulting In My Purpose, readers take a journey of self-discovery that leads them through seven personal growth journeys that will transform their life. These include self-reflection, self-awareness, self-knowledge, self-belief, self-improvement, self-planning, and self-motivation. The journal features questions and activities that are critical to each journey of self-discovery. Dr. Rankine's journal also comes with a link where readers can gain access to special bonus content to help them dive deeper into each journey complete with more exercises, videos, and additional resources.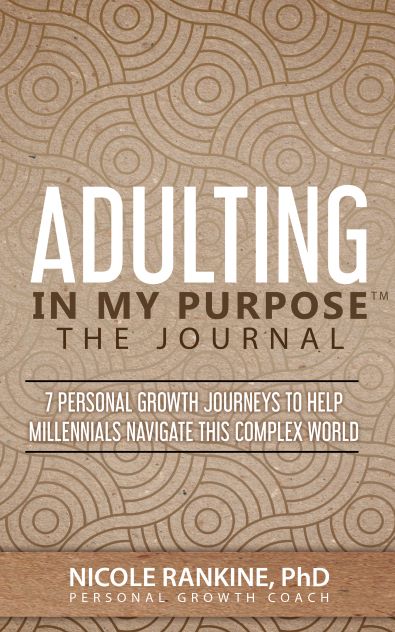 What Are They Saying
"For more than millennials! How many times have we heard adulting is hard? This is a book that I wish I'd had as a guide years ago, but it's never too late to start!" – Amazon Customer
"Just do it! This journal is exactly what you need if you're looking for a way to kickstart your personal journey into finding yourself!" – Alex
"Our generation needs this!!! Our sense of self and the world around us has been lost. Challenge yourself and move toward self-awareness and self-growth. You might want to get this journal; you won't be disappointed. Trust Me!"  – Candis
Nicole Rankine Ph.D., affectionally known as Dr. Nic has more than 15 years of youth development experience. Her passion for young people is a driving force. She is engaging and is sincere in making her connections with our younger generations. Adulting In My Purpose is more than just a journal it is a movement. It can be purchased on Amazon.com.