The Jul/Aug issue of National Geographic Traveller (UK) presents 21 ultimate adventures to plan for the future. From paddling through the wilds of western Canada to riding the rails through Siberia, dipping a toe in the Amazon and sleeping in the shadow of Sudan's great pyramids, eight travel writers select their favourite adventurous forays.
Also in this issue, the National Geographic Traveller Reader Awards returns for 2021. With 23 prizes on offer, readers will have the chance to vote in 15 categories for their favourite destinations, airlines, experiences, TV shows and books.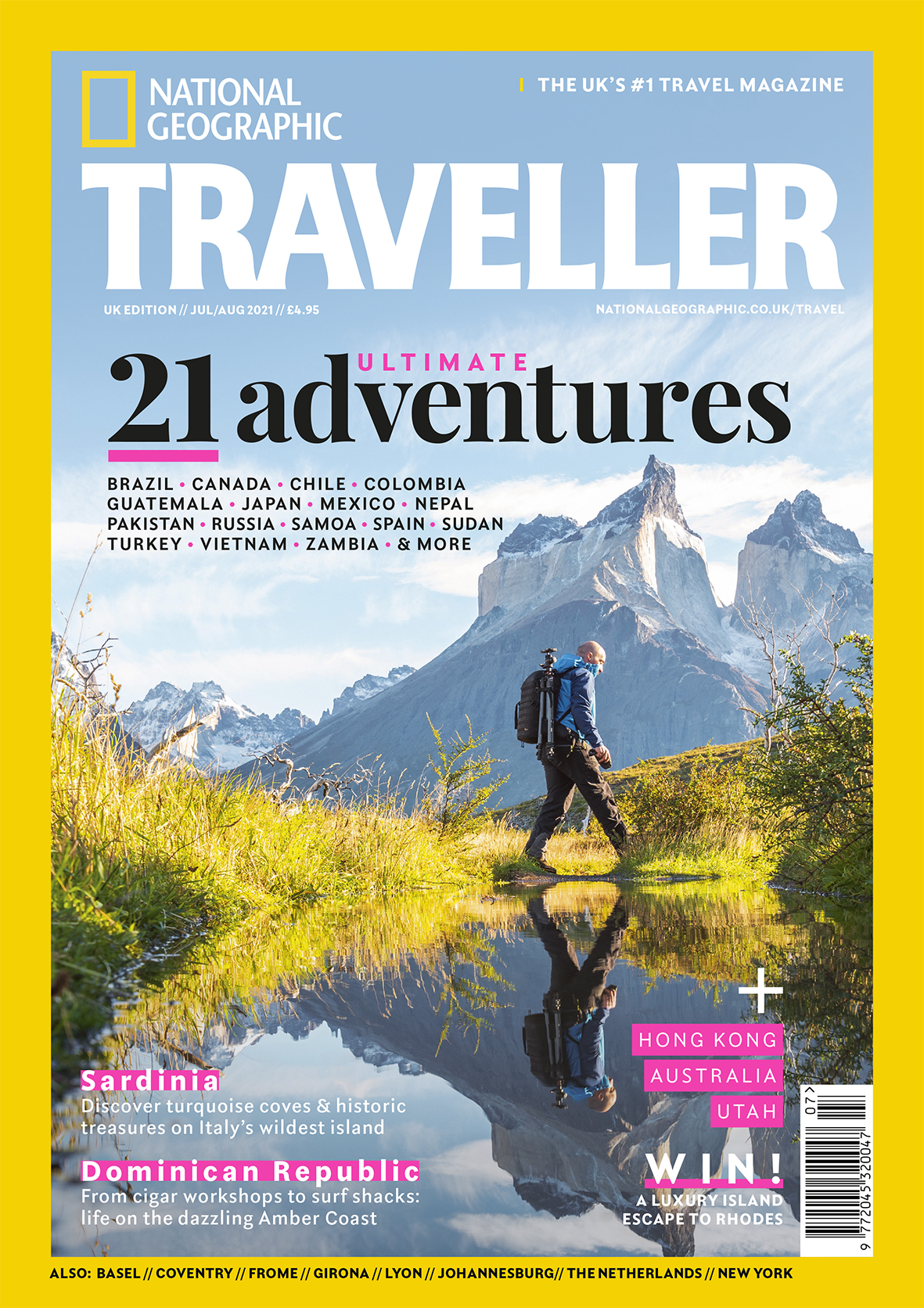 ALSO INSIDE THIS ISSUE:
Destinations: We take a journey through Utah's awe-inspiring national parks; trace Australia's history along the Murray River; explore the culinary bounties of the Netherlands' coastal province of Zeeland; take a wild weekend in Sardinia; and kick back on the Dominican Republic's beaches.
Urban stories this issue include Johannesburg, Hong Kong and Basel.
Smart Traveller: Coventry steps into the spotlight as UK City of Culture; on the trail of Lyon's rustic restaurants; glamping with the family in Monmouthshire; boutique hotel offerings in Girona; and a UK getaway in Frome.
Notes from an Author: Craig Taylor on New York.
Travel Geeks: Ask the Experts has advice on planning a UK honeymoon with a difference, photography courses that specialise in wildlife, and European car hire for under-21s. Meanwhile, the infographic looks at Olympic host cities past, present and future, and Hot Topic tackles the government's traffic light system for international travel.
Working abroad: We investigate the growing trend for 'workcations' — meeting people who've embraced new working tourist visas to base themselves abroad during the pandemic. Is this the new normal?
PLUS: Win a five-night luxury stay for two in Rhodes, courtesy of the Gennadi Grand Resort.
National Geographic Traveller (UK) is published under licence by APL Media Limited, from National Geographic Partners LLC in Washington, D.C. The travel and lifestyle magazine launched in December 2010, and is packed full of you-are-there photography, authentic travel experiences and inspiring narratives.
For a 26-page digital sample of our Jul/Aug 2021 issue, visit here.
National Geographic Traveller (UK) has a cover price of £4.95, is available via subscription and on newsstands, and is published 10 times a year. Current subscription offer: Receive three copies of National Geographic Traveller (UK) and one issue of National Geographic Traveller Food for just £12.
The National Geographic Traveller (UK) digital edition is available for Apple, Android and Kindle devices.